About
Description
Want to visit the Vatican Museums & Sistine Chapel on your own, but still have benefits usually reserved for tour groups – such as skipping the long entrance lines? Try these easy escorted Vatican tickets.
You will make your way to our meeting point where your ticket escort will be waiting to take you inside. You will enter using the fastest possible entrance. Get expert advice for how to make the most of your time inside the museums before setting off to explore on your own.
All Vatican tickets are timed entrance and specifically for the date you booked. Change of plans? You can request as many changes of date or time as you like or a full refund up to just 24 hours before your travel date.
Please note that your Vatican ticket booking voucher is not valid for entry to the Vatican Museums! You must bring your voucher to the meeting point to enjoy your escorted Skip the Line entrance and receive your valid entrance ticket.
IMPORTANT COVID-19 UPDATE:   The "Reinforced Green Pass" is a requirement for entry to all museums, and it will be verified at the door. For EU citizens, this is an official document with QR code attesting completed vaccination cycle or recovery from COVID. For non-EU Citizens, equivalent documents will be accepted. It is important that the document contains your identifying details (name and date of birth) and be written/translated in either English or Italian. You may be asked, at the time of entry, to also show a personal identity document.
Itinerary Map
ITINERARY MAP
There is no itinerary map for Vatican Tickets. You make your own itinerary!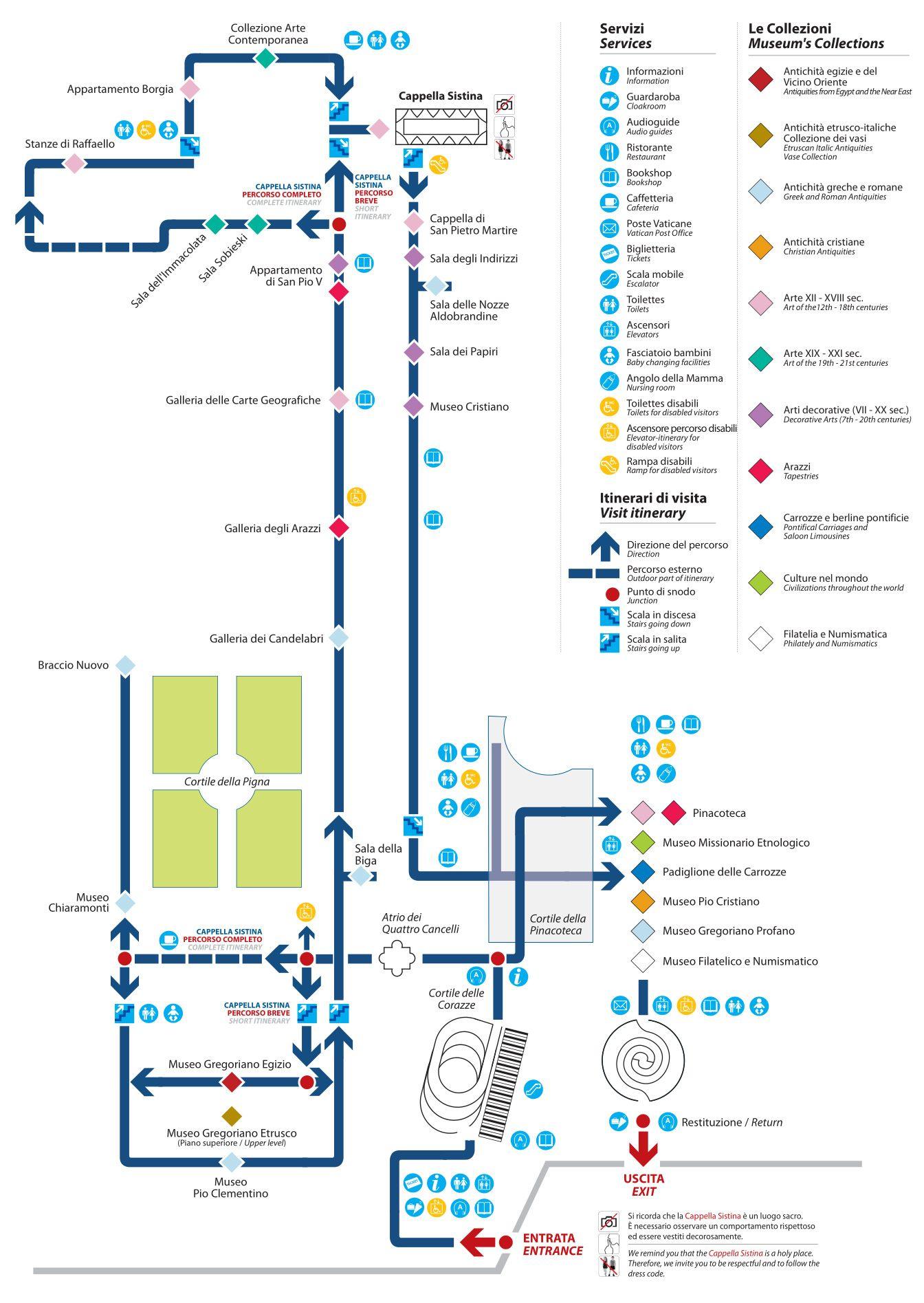 Important Info
IMPORTANT INFO
Special Notes
It is recommended to wear comfortable shoes.
Large bags and backpacks must be checked in.
To enter the Vatican Museums,shoulders and knees must be covered.
We are unfortunately unable to accomodate guests with wheelchairs.
Guests must be able to climb and descend stairs on their own.
You must provide a "Reinforced Green Pass" or equivalent to enter the Vatican Museums, attesting a completed vaccination cycle or recovery from COVID.
If you have a body temperature above 37.5° C (= 99.5° F) you will be prohibited from entering. Your temperature will be taken at the entrance by Vatican staff.
The use of a FFP2 mask covering mouth and nose is mandatory during the entirety of your stay inside the museums. No other types of mask are permitted.
You must bring your own mask.
It is necessary to maintain an interpersonal distance of over 1 meter.
What to Bring
Your camera! Photography is allowed everywhere except the Sistine Chapel.
Comfortable walking shoes.
Cancellation Policy
Your Vatican Tickets may be cancelled for a full refund or may be switched to a different date/time as long as your request is received no later than 24 hours before your original departure time and date. Multiple changes are permitted. To request a cancellation or change of time/date, send an e-mail to info@ecoarttravel.com.
Start Point
End Point
You decide! We salute you once inside the entrance to the Vatican Museums; you can decide where to end your visit.